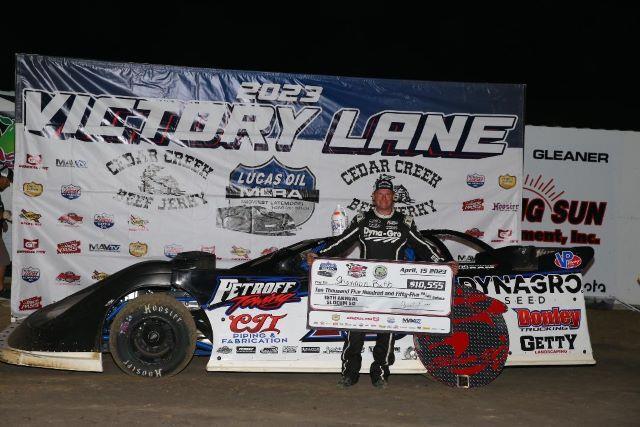 ---
Babb Bests 2023 Slocum 50 at 34 Raceway
Davenport, IA (April 14, 2023) – Shannon Babb led the entire distance on Friday night at the 34 Raceway in West Burlington, IA to score his second career victory in the 15th Annual Slocum 50.
Due to a chance of weather moving in on Saturday officials moved the weekends main attraction to the Friday night portion of the weekend, with a total of 41 cars signing in to try their luck at capturing the $10,555 pay day. For the second night in a row, Babb picked up the MyRacePast "Fast Time Award" with his lap of 15.090 seconds. Babb went on to score the win in his respective heat race, setting him up on the outside front row for the 50-lap affair alongside of polesitter Jake Timm.
Babb took immediate control at the drop of the green, until a pair of quick cautions slowed the race on laps three and seven respectively. Once the field got back underway, Babb would stretch out the advantage to just over two seconds with Brandon Sheppard and Timm pursuing the leader through heavy lapped traffic. Sheppard used the lapped traffic to close the gap on the Vic Hill powered Longhorn Chassis of Babb to just over .330 seconds as the race worked to under twenty laps to go.
Babb would get an opportunity to reset with clean air, when Billy Moyer slowed and eventually came to a stop on the front stretch with only 12 laps remaining. The nights final caution would then wave just one lap later when Ryan Unzicker and Bob Gardner collided of the exit of turn four.
The driver from Moweaqua, IL cruised to a dominating win in the final 11 laps, lapping all but the top eleven finishers. Babb joins only Bobby Pierce as repeat winners in the coveted Slocum 50 event. Sheppard, who was only laps away from victory on Friday night before a flat tire ended his night came home in the runner up position while Ryan Gustin moved up 13 spots to finished out the podium. Gustin's late race charged also netted him the MD3 Hard Charger of the Race Award. For the second night in a row Timm finished in 4th, followed by 2017 Slocum 50 winner Chris Simpson.
Following his fifth career Lucas Oil MLRA victory Babb said, "I can't say enough about this Longhorn Chassis, it's come to fit me, it's just more my driving style again. This is just my second race of the year, I've just been sitting on the couch watching everybody race and itching to get out there."
The 3/8-mile speedway presented a challenge to drivers on Friday night, with two different tales at each end of the track. "I was terrible in the bottom of three and four, I just could not rotate that bottom at all, Babb explained. "Starting front row outside gives you the vantage point to be able to drive where ever you want and that helped me through three and four and then one and two obviously the bottom was the best. I could just imagine that Brandon and Garrett (Alberson) and those guys were behind me giving it all they could give me, so I just did the same and kept going as hard as I could."
Sheppard's new team has shown great signs of improvement the past two nights as the New Berlin, IL driver noted, "It's been an up and down year for sure, and were really starting to get this thing figured out. This Longhorn Chassis has been phenomenal all year long, were just trying to get it the way we like it and were definitely getting there."
"This ride and this deal is a dream come true for me really. To be 30 years old and out of the Rocket house car and moving on to what I'm doing now is the end game for me. This is where I want to be, and were having a lot of fun and working really hard."
For Gustin, it was his first MLRA podium of the season, after coming or so close to victory just like Sheppard did only 24 hours before at the Davenport Speedway. "We had a really good car there. After that heat race, that was completely on me I messed up on that start trying to fire on the cushion and it bit us big time. My guys here, they just keep digging, they are the best there is. TC made some really good calls right there before the feature and made it I think the best it's ever felt around bottom without having to kill myself up top."
Racing action resumes on Saturday night at the 34 Raceway, as the weekend will conclude with the running of the "Prelude to the Slocum". The $5,000 weekend curtain call will get underway with hot laps at 6:00 pm followed by racing at 7:15 pm.
34 Raceway Contingencies 4/14/23
Lap Leaders – Shannon Babb (1 - 50)
Cautions – 4
MyRacePass "Overall Fast Time Award" – Shannon Babb (15.090 sec.)
Performance Bodies "Performer of the Race" – Shannon Babb
Outerwears Crew Chief of the Race – Patrick Dimpsey
MD3 "Hard Charger of the Race" – Ryan Gustin (+13)
Swift Springs "Move of the Race" – Dustin Sorensen
Sunoco Race Fuel "Rookie of the Race" – Dillon McCowan
Hooker Harness "11th Place Finisher" – Chad Simpson
PEM Racing "4th Place Finisher" – Jake Timm
Sunoco "Engine Builders Challenge" – Vic Hill
Midwest Sheet Metal "Points Leader Spoiler Challenge" – Chad Simpson
MSD Performance Holley: "1st B-Main NON-Qualifier" – Justin Duty
A Feature Cedar Creek Beef Jerky 50 Laps | 00:35:33.913
18B-Shannon Babb[2]; 2. B5-Brandon Sheppard[3]; 3. 19R-Ryan Gustin[16]; 4. 49T-Jake Timm[1]; 5. 32S-Chris Simpson[11]; 6. 16T-Tyler Bruening[8]; 7. 28-Dustin Sorensen[15]; 8. 58-Garrett Alberson[4]; 9. 77Y-Jordan Yaggy[7]; 10. 8-Dillon McCowan[6]; 11. 25-Chad Simpson[13]; 12. 11H-Jeff Herzog[14]; 13. 25F-Jason Feger[21]; 14. 22H-Dustin Hodges[19]; 15. 14G-Trevor Gundaker[22]; 16. 22-Daniel Hilsabeck[23]; 17. 78S-Steve Stultz[26]; 18. 7B-Mark Burgtorf[10]; 19. (DNF) 93-Mason Oberkramer[5]; 20. (DNF) 24-Ryan Unzicker[20]; 21. (DNF) 21M-Billy Moyer Sr[18]; 22. (DNF) 4G-Bob Gardner[12]; 23. (DNF) 51F-Matt Furman[9]; 24. (DNF) 3W-Brennon Willard[25]; 25. (DNF) 2-Tyler Stevens[17]; 26. (DNF) 56JR-Tony Jackson Jr[24]
B Feature 1 Sunoco 10 Laps | 00:05:57.713
2-Tyler Stevens[1]; 2. 22H-Dustin Hodges[2]; 3. 25F-Jason Feger[5]; 4. 15-Justin Duty[3]; 5. 07-Matt Ryan[7]; 6. 93J-Jay Johnson[4]; 7. 7D-Dusty Leonard[6]; 8. 1X-Aaron Marrant[8]; 9. 3W-Brennon Willard[10]; 10. 96-Dalton Imhoff[9]; 11. 78S-Steve Stultz[11]; 12. 12-Brandon Queen[12]; 13. (DNS) 29D-Spencer Diercks
B Feature 2 Hoosier 10 Laps | 00:03:53.786
21M-Billy Moyer Sr[1]; 2. 24-Ryan Unzicker[3]; 3. 14G-Trevor Gundaker[2]; 4. 56JR-Tony Jackson Jr[6]; 5. T6-Tommy Sheppard Jr[4]; 6. 30-Todd Cooney[7]; 7. 22-Daniel Hilsabeck[5]; 8. 99-Andy Eckrich[8]; 9. 42-Johnathan Huston[9]; 10. 50-Kayden Clatt[10]; 11. (DNS) 33F-Rickey Frankel; 12. (DNS) 32C-Chad Holladay
Heat 1 Midwest Sheet Metal 8 Laps | 00:03:09.000
49T-Jake Timm[1]; 2. 93-Mason Oberkramer[3]; 3. 51F-Matt Furman[6]; 4. 25-Chad Simpson[2]; 5. 2-Tyler Stevens[4]; 6. 15-Justin Duty[7]; 7. 25F-Jason Feger[5]; 8. 07-Matt Ryan[8]; 9. 96-Dalton Imhoff[9]; 10. 78S-Steve Stultz[10]; 11. (DNS) 29D-Spencer Diercks
Heat 2 Hooker Harness 8 Laps | 00:03:14.000
B5-Brandon Sheppard[1]; 2. 77Y-Jordan Yaggy[3]; 3. 32S-Chris Simpson[2]; 4. 28-Dustin Sorensen[6]; 5. 22H-Dustin Hodges[4]; 6. 93J-Jay Johnson[7]; 7. 7D-Dusty Leonard[5]; 8. 1X-Aaron Marrant[8]; 9. 3W-Brennon Willard[9]; 10. 12-Brandon Queen[10]
Heat 3 PEM 8 Laps | 00:05:50.000
18B-Shannon Babb[1]; 2. 8-Dillon McCowan[3]; 3. 7B-Mark Burgtorf[8]; 4. 11H-Jeff Herzog[5]; 5. 21M-Billy Moyer Sr[2]; 6. 24-Ryan Unzicker[4]; 7. 22-Daniel Hilsabeck[6]; 8. 30-Todd Cooney[7]; 9. 42-Johnathan Huston[10]; 10. (DNF) 33F-Rickey Frankel[9]
Heat 4 MD3 8 Laps | 00:07:11.000
58-Garrett Alberson[1]; 2. 16T-Tyler Bruening[2]; 3. 4G-Bob Gardner[8]; 4. 19R-Ryan Gustin[3]; 5. 14G-Trevor Gundaker[7]; 6. T6-Tommy Sheppard Jr[9]; 7. 56JR-Tony Jackson Jr[4]; 8. 99-Andy Eckrich[5]; 9. 50-Kayden Clatt[6]; 10. (DNS) 32C-Chad Holladay
Article Media
Back to News